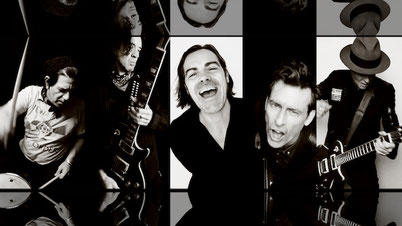 The Conscience Pilate play guitar-driven pop music that combines the energy of CBGB's post-punk with the texture of 80's alternative. The new single "Hope" marks the return of Toronto indie art rockers The Conscience Pilate and the start of their new collaboration that will see new singles arriving monthly for the remainder of 2023. After a 25 year hiatus, Edward Pond and Neil Leyton decided to reunite and immediately wrote new music over a bottle of Rioja.
The Conscience Pilate started in Toronto in 1995 when songwriting duo Edward Pond and Neil Leyton finished university. As with most urgent rock projects, TCP self-destructed after just one album, but Pond and Leyton remained brothers. One night in November 2022 Neil said, "We have some unfinished business. Let's make another record." Two songs were written that night alone in Montreal.
Reflecting on the new single "Hope" Leyton said, "The thing about Hope, you see, it is like the force: there's a good side and a dark side. I suppose our song is more about the darkness of it all. Some of Edward's lyrics on this song really hit home with me. Still, personally I am more of a hopeless optimist. Like when you expect the worst and still hope for the best. And somehow it all works out in the end." Pond jumps in to say "Back in '96 we used to blame everyone else. Now we just blame ourselves!" Recorded remotely between Canada and Portugal, bed-tracks and overdubs were done in Toronto at Red House, produced by Mick McKenzie and Edward Pond, with vocals tracked in Portugal at Canoa Studios. "What's great about doing monthly singles is it gives us many chances to refine our approach", comments Pond. "You mean ahead of the new album coming next year?" replies Leyton from across the pond. The B-side of "Hope" is TCP's cover of "April Skies" by The Jesus and Mary Chain - sung by none other than Edward Pond, taking lead vocal duty on record for the very first time (having done so live without Leyton before - that's another story!)
---
It takes a village, so while Pond and Leyton remain the core of the band, many of their musical cohorts from across the years are stepping up to play drums, guitars, record and pour synergy into this project. The band reunion happened because Pond had been storing 300 of Leyton's vinyl records for the last 12 years, when Leyton moved to Lisbon. Finally Leyton came to Montreal (for the M for Montreal conference) and brought a set of three purple suitcases to stuff with vinyl to take back on the plane to Lisbon. They had piles of records on the floor of the hotel parking garage when Neil said, "Okay, we need to make our own record now." They wrote Army of Devils that night. Starting in the summer of 2023 The Conscience Pilate will release a new single each month, beginning with "Army of Devils", "Bloom" and now "Blue Shadows".