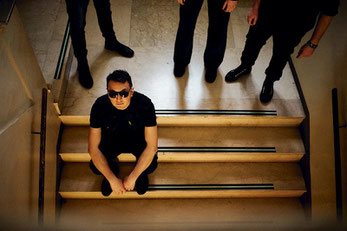 Gab De La Vega unveils his latest single and music video, "Off My Chest," taken from the upcoming fourth studio album, "Life Burns," set for release on March 1, 2024. This marks his collaboration with SBÄM Records, overseeing the worldwide release of "Life Burns," in partnership with labels like Sell The Heart Records (United States), Epidemic Records, Motorcity Produzioni, and Overdrive (all in Italy).
"Off My Chest" introduces listeners to a more powerful full-band sound, pushing boundaries with dynamic drum beats and fierce guitar riffs, influenced by Gab De La Vega's hardcore and punk roots. This transformation is further enhanced by his studio collaboration with long-time friend and bandmate Simone Piccinelli from The Open Cages. De La Vega's resonant voice skillfully conveys the song's emotive lyrics, showcasing his signature expressiveness.
Gab De La Vega comments:
"Off  My Chest" is the first single off my upcoming fourth album "Life Burns", which is coming out March 1st 2024. This album is dense in meaning and this song makes no exception. It is actually one of the most meaningful of the whole album. It is a very personal song but I think it can resonate with the listeners, I'm sure some people out there would easily relate if they had similar experiences growing up.
 The way interactions shape the way we are, especially in the formative years, is often under-looked. It took me a while to understand that some features of my personality exist and to face them openly, to be outspoken and verbal about them felt immediately redemptive and even liberating during the writing of the lyrics.
 It's easier to hide our head in the sand in front of the negatives, especially when they are part of our human experience, but to work on them, face them and process them is the only way to accept everything and move on and possibly grow up.
 Musically, it's gives a glimpse of what the new album is going to be like. I think that you can feel the rage and at the same time the desire for something positive as a response to it in the music. This album sees a lot of this honest approach in the feelings that each song can evoke. I can't really wait to play this song and this album live!"
---
The song comes with a music video directed by Ronnie Amighetti. Gab De La Vega adds:
 "We shot the video in a live production warehouse, we wanted it to have the look and the feel of the energy the full band show of mine with The Open Cages has. We wanted it to look organic, simple, authentic (for how authentic a music video can be) and have the image match the energy of the music. It's us, practicing our song, ready to leave on tour and set the stages on fire!"
 
 As a seasoned performer, Gab De La Vega's journey has spanned across Europe, including the UK, the US East Coast, Canada, and South America, sharing stages with prominent artists such as Frank Turner, Against Me!, Laura Jane Grace, PUP, Chuck Ragan, Joey Cape and more. In 2022 he appeared with his band at Frank Turner's Lost Evenings Festival in Berlin, at the British singer-songwriter's invitation and he recently embarked on the "Road to the Next Chapter Tour" in 2023, bridging the gap between his third record, "Beyond Space And Time," and the upcoming album.
---