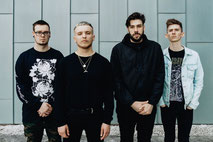 Combining devilish technical ability with a vicious sound and vicious critique of the world, the vegetarian and vegan group's debut full-length effort All Flesh Is Grass takes aim at one of Planet Earth's most pressing issues: climate change and its associated effects. This is most apparent in the video for 'Silent Spring', which targets the cruelty of industrial farming.
A mixture of Decapitated, Between the Buried and Me at their heaviest, and The Black Dahlia Murder, GODEATER will invariably draw comparisons also with Cattle Decapitation and Gojira for their outlook. It's no disservice to the band to mention them in the same breath as these more established forebears, as they have the musical ability to match.
Already turning heads with performances at UK Tech-Fest, and alongside Ingested, and Virvum, GODEATER will be playing Damnation Festival this year and touring in October with Harbinger.
GODEATER's previous single 'Exsanguinated' has already received tens of thousands of streams worldwide and have gained the attention of Metal Injection, Metalsucks and Metal Hammer, who said the band "deserve to rise swiftly to the top of the pile".