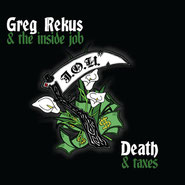 Not only is 2020 a leap year, it's the year Greg Rekus, the Canadian punk artist, leaps back into action! After a short hiatus in 2019, Rekus has re equipped and leveled up with new record "Death and Taxes", as well as a wallop of tour dates that should keep Greg away from Winnipeg for the bulk of the long winter season.
His brand new record, out since January 8th, brings 12 tasty original tracks as well as a cover by the Pogues, taking all of their writing and playing to new levels. On his new release, Rekus comments:
"January 2019. I'm in a bar in San Francisco called Club 540. My album "Sibling Cities" has been out for more then 2 years and the re-release of "Punkoustic" on vinyl isn't necessarily the giant hit I was hoping for. It was time for something fresh!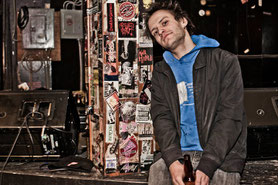 A new album seemed a distant mirage on the horizon, unattainable financially as well as physically. I believe at that point, I only had 2 or 3 new songs I had been tossing around. Hardly a foot in the door for a new album. As I rotated my beer can clockwise in my hand, I glanced at the beers on tap. Shock top. A few locals I didn't really recognize, and then there it was. Death and Taxes. Moonlight brewing's finest in black lager. The 2 things certain in life.
At that point, I realized that would be the title of my next record. It would symbolize my frustration with the world. With myself. With everything. At the same time a glimpse of hope. That there is meaning in all of this. All these steps one after the other that led me to this bar stool in a strange city in the bay area to rendezvous with friends and share something that we all held dear to our heart.
As the months went on, inspiration seemed to hit me left and right. New ideas for songs and lyrics quickly filling up the note app on my phone. My warm up routine before shows was turning into a clip show of new riffs and vocal ideas soon to become songs. Darryl had joined the band on sax and breathed a new fresh take on our acoustic punk style. It added something that separated us from the bunch.
That summer of 2019, the songs just seemed to pour out. Every week, there was a new idea or something tossed around the jam space. After an intense week of rehearsal at the end of September, we hit the studio and recorded the bed tracks in 2 days. Sax, Vocals, Organ and other over dubs as well as mixing took another 8 days and it was done. I honestly think this new record is one of the best things I've ever done and I can't wait to get it into everyone ear holes!"
---