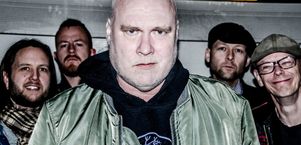 Norwegian punk/hardcore veterans Cockroach Clan fronted by Billy Cockroach, one of the first vocalists of Mayhem who performed on the 1987 album "Deathcrush" under the moniker of Messiah, have just revealed a cover song for Billy Bragg's classic anthem "A New England".
Cockroach Clan's latest album "Songs about Blunt Knives and Deep Love" was released last September on Fysisk Format and put a halt to a 22 year hiatus and offered an well aged vintage punk rock full of cheerful tunes and aggressive riffs.
The band started out as far back as 1994, building a loyal fan base and a reputation of being a riotous live band along the way. Cockroach Clan's previous albums "Roach" from 1994 and "Just Say Blow!" from 1997, along with the "Going Underground" EP from 1996 have become minor classics in the Norwegian punk scene, although the band never gained any significant success beyond the punk congregation.