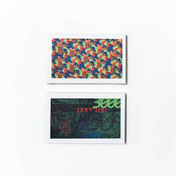 Perrine3000/Reverberation Club - Split MC
Reverberation Club (Leipzig, Germany)
Raised in the dark Swedish country side, Reverberation Club is living in Germany since 6 years (recently moved from Berlin to Leipzig). After producing mostly electronic music for some years, he bought a guitar, listened to a lot of Spacemen 3 and BJM, and started recording his own songs. Maximum gain on everything, lonely night sessions, fucked up one chord song jams, drone and heavy out of tune guitars.
Perrine3000 (Fribourg, Switzerland)
Starting with the garage punk folk band Perrine & Les Garçons, Perrine Berger plays since 6 years with Adieu Gary Cooper. Recently, she started different projects as Perrine3000 (solo project) and Azur3000 (with Laure Betris and Léonard Arleon). She's also working for some other projects like Kassette, Your Fault, Delia Mishler or Le Roi Angus. Lapsteel guitar drowned in the echo, distorted guitars, drum machine and analog synthesizers.