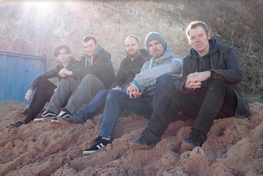 South London, UK Ska/Punk 5-piece Call Me Malcolm has signed with LA-based label Wiretap Records, to unleash their new full-length album "Me, Myself and Something Else" on Friday, May 15th.
The announcement follows the release of the band's two recent singles and music videos from the album, "Wake Up, The Monster Said", and "What You Burn", both of which you can watch below.
"Wake Up, The Monster Said"
---
"What You Burn"
The band says, "We're ecstatic to be welcomed into the Wiretap Records family for the release of 'Me, Myself and Something Else.' After two years of love and devotion to a record, it's incredible to be working with a label who shares not only the same passion for the music that we make but also about creating a supportive global scene."

'Me, Myself and Something Else' will be available on all digital services starting May 15. 12" vinyl copies of the record are also now available pre-order at www.wiretaprecords.com.
Call Me Malcolm is a five-piece ska/punk band from Kent, UK, blending hard punk, a crunchy ska sound, and three-part harmonies. Described by Vinnie Fiorello (Less Than Jake) as "a saving grace of the genre", the band was originally inspired by the US third wave leaders of the late 90s. Since then, Call Me Malcolm has evolved a harder, sharper edge, creating a unique sound which is eliciting plaudits from around the world.

April 2018, Malcolm released 'I Was Broken When You Got Here', an album telling the story of the band's struggles with mental health, to critical acclaim. Recorded with Oz Craggs at Hidden Track Studios (Mallory Knox, Feed The Rhino, Riskee and the Ridicule), the release showcased the band's layered, intricate songwriting. Ska Punk Daily voted this record #8 in their "Top 10 Ska Punk Albums of the Decade."

Following last year's success at Punk Rock Holiday, a capacity after show party at Boomtown and the main stage at Rebellion Festival, they embarked on a UK tour with US legends The Slackers.

May 2020 sees the release of their new album 'Me, Myself and Something Else', a record looking more outwardly at the struggle we face with mental health in the outside world. Call Me Malcolm is part of the Blackstar Amplification roster and represented by Hidden Talent Booking.