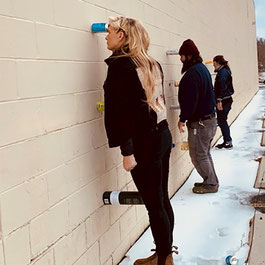 Featuring members of Pennsylvania's Backwoods Payback, Boozewa brings those wall-shaking, glass-clattering riffs in ways that will be no surprise to longtime BWPB fans...And a knock in the back of the head for everyone else!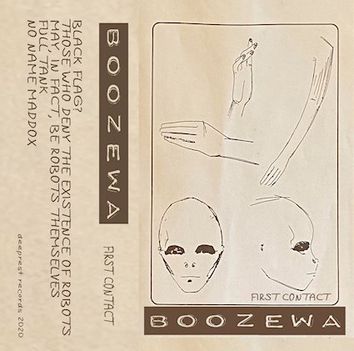 The new band is comprised of BWPB alum Jessica Baker on bass and Mike Cummings on drums and lead vocals, joined by Rylan Caspar on guitar; Baker and Caspar are handling backing vocal duties as well. The band says of their four-song demo,
"Making music during a time when you literally could not do anything else just made sense. We were lucky that a wave of inspiration decided to crest in the spring of 2020 and even luckier still there we all had a house full of gear to make it happen. We have no idea what 2021 holds for this band but wherever we end up, you will for sure hear us coming...
The demo was entirely recorded and mixed by the band on a 90s Tascam 4-track tape machine here at the compound. It was mastered for the cassette release by Mike Bardzik at Noisy Little Critter in Downingtown, PA.
The cassettes were all run off individually by hand and assembled at the compound as well. This release is possibly as DIY as you can get. It was a labor of love."
This demo, titled First Contact, will be available in cassette and digital formats on Februrary 5th 2021.