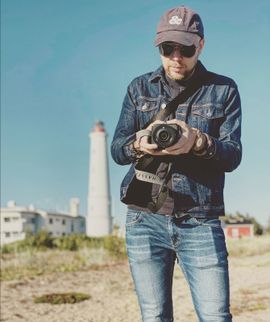 "LKPG Hardcore: Where we belonged" is a hardcover photo book that focus on the Linköping hardcore scene between 1995–1999, on the bands and on the people involved. This was the time when the punk hardcore scene was at it's peak in Sweden and even though the Umeå hardcore scene might have been more famous, the Linköping hardcore scene came close.
Bands from all around the world came to the local venue Skylten, where most local bands had their rehearsal space and got to play shows with their heroes, a key factor to the success of the Linköping hardcore: the local bands and the people coming to the shows from all over the county as well as from further away.
Kristofer Pasanen (who grew up in Mjölby, Sweden and now lives in Helsinki, Finland) documented the Swedish hardcore scene in the mid to late 90s.
Now after years on a break from live photography he has become more active again and found a newborn passion for music, photography and design. 2020 was a special year, spending more time at home and figuring out what to do, the idea of a book was born. Why not scan photos and see what comes out of it?

His photos have been featured on record covers and magazines around the world and in 2001 the photo book "Identity Parade" was released and was sold all around the globe. Where Identity Parade was a view of his entire archive and when it all happened, returning to his archives putting together a new hardcover photo book featuring 88 pages of pure nostalgia focusing on the local bands and people creates a new story of the time, looking back and finding new angles from the same images that now are history.
"Making LKPG Hardcore brought back so many memories of bands, people, shows and roadtrips. It really made me realise that time is unique, you can't stop it and as time passes by something magical happens. The images in this book shows people and bands, most in their adolescence – that now becomes a unique document of a subculture, like frozen in time. Most of us are now middle aged, some with kids in the same age we were back then – but many of us still have a spot in our heart for the scene. Social media played a key role in realising this, with accounts such as Svenskhardore kultur on Instagram, and the books they released the last years. It feels great to be able to share these images from a time when everything was still analogue and I hope this brings memories to life, a way to show the kids what we accomplished back then. Photography today is taken for granted, and getting your photos, videos and music out is easier than ever – but there is an everlasting value in physical objects, something to hold on to and have on your table." says Kristofer Pasanen.

The name of the book directly refers to the compilation CD called LKPG Hardcore (Where We Belong) featuring five of the bands featured in this book. It was released in 1996 by Bridge of Compassion. Bridge of Compassion, run by the brothers Henrik and Johan Lindqvist, played a huge role in the Swedish hardcore scene in general, and an even bigger role in the Linköping scene.

"When we try to understand the hardcore scene, it is often portrayed as being a place where the outcasts, the rejects and the bullied had an inclusive space where they could thrive. We took our anger, our feeling of being right and created our own space. Seeing all the people in these photographs you can tell hardcore shows were a massive happening during this time period. I am grateful for all the people that made this happen. It truly did mean we created a space where we belonged. Several people, countless times, also described how immensely important that short period of time was. Some people describe it as one of the best times of their lives." Henrik Lindqvist writes in the book.  

The book feature bands such as Nine, Outlast, Section 8, Dead End, Red Tape, First In Line, Friend, Another Reason, Both Sides and Bonds of Trust – all bands from Linköping and around with never before seen photos of bands and people that made the scene to what it was.
---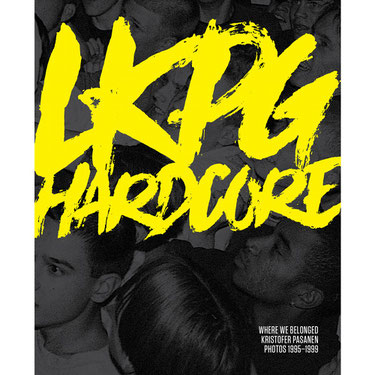 Get the book at:
Book title: LKPG Hardcore: Where we belonged
Author: Kristofer Pasanen
Release date: 18.2.2021
Publisher: Uprising Coalition – www.uprisingcoaltion.com
Distributed by: Freight Train - www.freighttrain.se
ISBN: 978-952-94-4140-2

Featuring the bands in alphabetical order:
Acursed / Another Reason / Applecore / Backside LKPG / Baseline / Blinker / Bobbit / Bonds Of Trust / Both Sides / Break The Silence / Cornerpit / Crew Cut / Dead End / Drabness / Ett Liv Kvar / Fett / First In Line / Forced Into / Foreheads / Friend / Front 013 / Hint / Interlace Jam Session / Nine / One87 / Outlast / Red Tape / Roswell / Section 8 / Sensible / The Firemark / Three Minute Access / Trunchbull