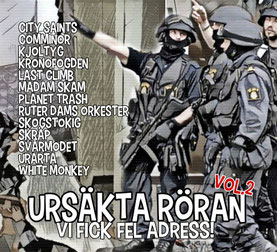 V.A.
Ursäkta Röran Vol. 2, Vi Fick Fel Adress CD
GrönPeppar Records
It's time for the second volume of GrönPeppar Records collection series "Ursäkta Röran" and 13 new Swedish punk bands.
The first volume came in November 2020 and beside new bands, the big news is that the collection (in addition to Bandcamp) is also released on CD (digipack). But enough about that. The important thing is the bands and the basic idea is to spread new Swedish punk and support the DIY-scene. All 13 tracks are unique when the album is released, but many will certainly appear in other contexts in the future.
---