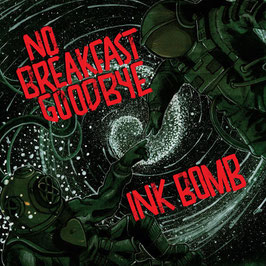 On June 18 the punk rock bands Ink Bomb and No Breakfast Goodbye from Nijmegen, the Netherlands will release a split release.
---
When the members of Dutch melodic punk rock band Ink Bomb stepped in their practice space for the first time in 2015, they never met before. Fast forward a few years later and the band toured multiple countries and released two EPs and their full-length debut album Fiction. When the pandemic hit the band menbers were forced to tap into their flexibility. They decided to write new material to release a split album with their friends of No Breakfast Goodbye. This split features all new material with the Ink Bomb trademark sound: fast, aggressive songs that might not always follow standard song structure, but always features great melodies with a healthy dose of melancholy. The band cannot wait to return to the stages in 2021!
---
No Breakfast Goodbye is a pop punk and skate punk group. Known for its energetic live performances and catchy songs, the Dutch band left their mark on many stages across the Netherlands and Germany. After their particapation in 2019's Punkathon, the band is now gearing up for their first official release.
---