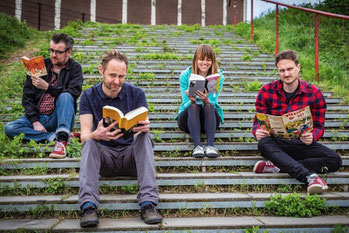 Dutch melodic punk band Ink Bomb releases their new single/video today: Dorothy Enters Technicolor. In this feminist song not only the four band members themselves can be heard, but it also features the surprise guest vocals of Roos Centimane, known as vocalist for former punk-metal band Stark. The single is from Ink Bomb's split release with No Breakfast Goodbye they'll be releasing on June 18.
Guitarist and producer Quirijn Foeken: "We asked Roos Centimane to contribute because we are fans of her raw shouting vocal style as we know it from her former band Stark. Once in the studio, she came up with a more sensitive vocal line as well. That one fit much better with the song than what we first thought of!"
---
Biography Ink Bomb
When the members of Dutch melodic punk rock band Ink Bomb stepped in their practice space for the first time in 2015, they never met before. Fast forward a few years later and the band toured multiple countries and released two EPs and their full-length debut album Fiction. When the pandemic hit the band menbers were forced to tap into their flexibility. They decided to write new material to release a split album with their friends of No Breakfast Goodbye. This split features all new material with the Ink Bomb trademark sound: fast, aggressive songs that might not always follow standard song structure, but always features great melodies with a healthy dose of melancholy. The band cannot wait to return to the stages in 2021!

Ink Bomb makes a feminist statement with Dorothy Enters Technicolor, clearly recognizable in phrases like "Glass ceilings will not last" and "The patriarchy a thing of the past". To reinforce this theme, only women appear in the music video.
 
Most of the women in the video either worked with the band or are close to the band in some other way. Bassist Arina Banga: "We shared the stage, they hosted our shows, we stayed with them, they made our artwork or they are a friend/partner. Moreover, for me it is special that band members from my former band Planet Eyelash also participated. With them I experienced my first band adventures."
---