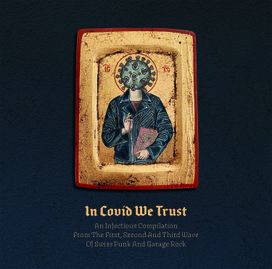 LuxNoise proudly presents a brand new & absolutely
infectious Swiss Punk & Garage Compilation.
13 bands with 13 exklusive songs pressed on a limited run of 500 records!
The Sampler «In Covid We Trust – An Infectious Compilation From The First, Second And Third Wave Of Swiss Punk and Garage Rock» gives a rough outline of the quality and diversity of whats going on in the underground. The pretty vinyl record brings together three generations of Punk- and Garagerockers, combining Melodic Punk, gritty Dada-Trash, Psychedelic, Swiss-German Toiletcore and Shout-Garagerock into a big mash of DIY attitude. It has songs by Nasty Rumours, Bitch Queens, Bad Mojos, Delilahs, Überyou, The Lovers, The Monsters, The Lombego Surfers, The Monofones, Uristier, Tight Finks, HereHareHere und WolfWolf.
Hard facts:
Preorder: 9th of June
Release: 23rd of June
13 unreleased Tracks by Swiss Punk- and Garagerock Bands
Vinyl Copies: 400 in black, 100 in red (because red = cool)
Initiative: Melchior Quitt (Bitch Queens)
Artwork: Jörg Amstutz (Uristier)
Recordings: By the bands individually
Release: LuxNoise
Finances: Self-financed with some help from RFV Basel (thanks alot!)