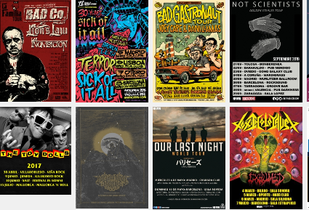 20 years of HFMN CREW…
Back in 2001, a group of kids from Manresa got together to organize concerts. Born out of pure fun and devotion to the scene, they organized hardcore concerts with their favorite bands under the name HFMN, a name they created to identify themselves. Who could have foretold that they would end up as one of the most productive and fruitful agencies within the punk rock and hardcore scene in the entire state and European continent...
The compilation they proudly bring us celebrates these 20 years. A glorious 20 years full of concerts, tours, laughter, trips, madness, and above all, friendships for life. Although we're celebrating two decades, this compilation chiefly represents the last 5 years of the agency. During this period, apart from concert production, the agency has focused on management, working with groups from all over the European continent, initiating a new era for HFMN.
The fundamental idea is to project and display the bands currently part of the HFMN management roster. These bands are from several countries, and perfectly embody HFMN's adventuring, curious character. They show a hungry appetite for growth in the scene and expansion towards all territories possible.
All the bands the agency has, have different musical styles, but they all have a clear common denominator: their spirit, and punk rock character. These bands always have something to say and don't want to fall into typical clichés. They have attitude and clear social commitment and want to play, travel, and show their music around the globe, while at the same time making friends and having a great time (which by the way is pretty much what we've come to do, at least when we talk about HFMN).
In this 20 years compilation, there are various bands from different musical styles that all share their passion for punk rock: ANAL HARD and PROUDZ both perfectly represent the most classic hardcore. They have accompanied HFMN from day one. Notably, the first concert signed by HFMN was by Madrid's PROUDZ.
Next, we have bands from our territory, such as The Gundown, La Inquisición, Crim, Blowfuse, and Deadyard. They represent the terrific quality and energy of the superb and lively Catalan punk rock scene. In this compilation, they share with us unpublished songs and some really dynamite covers!
We have the great pleasure of having Sucker and his Bad Co. Project bring us a new song. The new song will also be in their future album and undoubtedly reminds us of Oxymoron, the group's predecessors. Their Parisian brothers, Lion's Law, will also delight us with an unreleased song that represents the band's most hardcore and Oi! side.
The Italians, Talco, offer us a tune in the purest California punk rock style that will surely be one of the classics of their new album. Meanwhile, our English representatives, Buster Shuffle, embody our most festive sounds and provide us with an unpublished piece that exhibits their skatalitic base and stylistic variety.
Finally, we have The Baboon Show. The fashionable Swedish band gives meaning to the entire compilation by bringing us a version of "Have a Party With Me," a song by the great Swedish artist Eddie Meduza. Come party with us, with HFMN!
That's all for now! Now it's your turn to give life to it all, listen to these 12 anthems, and share the album with your friends! See you at the concerts!
---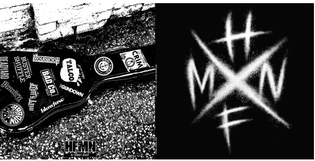 Artist: Various Artists
Titel: HFMN CREW - 20 YEARS SAMPLER
Release date (LP/CD): 17.12.2021
Digital: 28.01.2022
Label: HFMN Crew
Vertrieb: Altafonte/Cargo Records
Trackliste:
Side A
1 Lion's Law - Insane; unreleased
2 La Inquisición - Primavera; from upcoming EP
3 Talco - Via; from upcoming LP "Videogame"
4 The Gundown - January (Mega City Four Cover); unreleased
5 Buster Shuffle - New Badge for My Uniform; from upcoming LP
6 Anal Hard - Inadaptado; from "Influencers Del Underground" album

Side B
1 Bad Co. Project - Fallen Angels; from upcoming LP
2 Crim - Patrimoni Mundial; from upcoming LP
3 The Baboon Show - Have a Party with Me (Eddie Meduza Cover); from upcoming LP
4 Blowfuse - State of Denial; from their upcoming LP
5 Deadyard - Sabotage (Beastie Boys Cover); unreleased
6 PROUDZ feat. Rubén Aragonés Guerrero - Elegidos Para La Gloria; from "Cuando Todo Esté Perdido" album