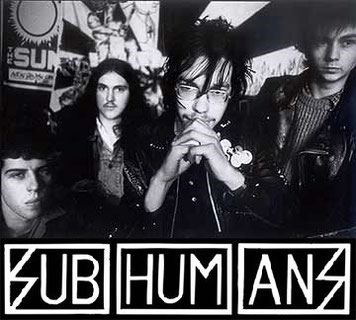 SILENCE IS NO REACTION: FORTY YEARS OF SUBHUMANS is the definitive history of one of the best punk bands of all time.
It's been a long time in the making but with over 640 packed pages it's well worth it and you can finally pre-order this book now!

The book is written by Ian Glasper, working directly with the band, and will be jointly published by PM Press and Earth Island Books.
There's a Kickstarter project at: tinyurl.com/SubsKS running through January and February, or you can pre-order the book direct from Earth Island Books for the UK and Europe, or PM Press for the USA, so no one has to pay transatlantic postal rates.
The pre-order starts now with these first edition books being shipped to all supporters as soon as we get them - we hoped as early as March or April, but are told it's more likely to be shipping in May - it all depends on the printers.
The kickstarter has extra reward options including a hardback version, t-shirt or additional books, or you can simply order the paperback book direct from the publishers to arrive with you asap.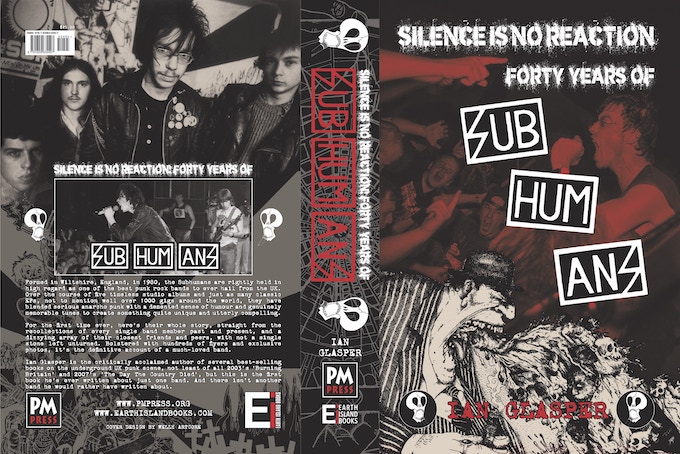 Formed in Wiltshire, England, in 1980, the Subhumans are rightly held in high regard as one of the best punk rock bands to ever hail from the UK. Over the course of five timeless studio albums and just as many classic EPs, not to mention well over 1000 gigs around the world, they have blended serious anarcho punk with a demented sense of humour and genuinely memorable tunes to create something quite unique and utterly compelling.
 
For the first time ever, here's their whole story, straight from the recollections of every band member past and present, and a dizzying array of their closest friends and peers, with not a single stone left unturned. Bolstered with hundreds of flyers and exclusive photos, the complete discography, a full gigography, and more, this book is the definitive account of a much-loved band.
Ian Glasper is the critically acclaimed author of several best-selling books on the underground UK punk scene, not least of all 'The Scene That Would Not Die : Twenty years of post-millennial punk in the UK', 'Burning Britain: The History of UK Punk 1980-1984' and 'The Day the Country Died: A History of Anarcho Punk 1980-1984'. But this is the first book he's ever written about just one band. And there isn't another band he would rather have written about more.

Praise for the Subhumans...
---
Mark 'Barney' Greenway (Napalm Death): "I must admit that Subhumans came to me as a bit of a secondary tip. During the formative years of getting my head around Conflict and suchlike, somebody, somewhere in Birmingham gave me a tape of 'The Day The Country Died'. It wasn't just another band gnashing teeth and chucking around the awkward rudiments of sonic anarchism; it had a certain lightness of touch to the song-writing in quite a few places. I know that might sound a bit improbable considering the necessary thrust of anti-establishment bands at the time, but it was neat to hear some considered twists and turns in the sound. Today, it's simply timeless stuff and, for what it's worth, Napalm Death did our own homage T-shirt to that classic album cover. Lovely stuff."


Sean Forbes (Hard Skin): "Subhumans have integrity in spades, and you can't buy that. They were important then, and are important now."

Ruth Elias (Hagar The Womb): "Subhumans are special both on and off stage. You come away from seeing them feeling like you've been through the wringer, even if you've just observed them from the back. It's the passion that's evident onstage, with those beautifully constructed lyrics spat out with every breath - and that charged energy they generate, that sweeps through the crowd and leaves us feeling changed."

Chris Knowles (Hagar The Womb): "Subhumans retain an innate integrity that very few other bands can claim, and that to me is their most special quality. They play all the festivals, small gigs, underground events, and never tried to 'go bigger' or change their sound to get more in tune with whatever else is out there. That is punk, and that ethos is the one I get up with every day still, and they epitomise that more than any other band on the planet."

Peter Jones (Paranoid Visions): "They are the ultimate punk band with the most well-rounded, genuine, inclusive, informative, non-cliched, approachable and friendly attitude of any band I've ever met. Add to that they are a spectacular band with amazing music… tight and edgy as fuck, and so professional, it's a joy to watch."

Stew Summers (Shrapnel): "The Subhumans were special because, along with the likes of Magazine, The Ruts and Crass, they wrote – and still write - great music, which really stands the test of time. And, as a lyricist, Dick is up there with the best of them."

Andy 'Tez' Turner (Instigators): "Subhumans were and still are great. They straddled the line between anarcho and what is now called 'UK82' without having to bow to anyone. And still do. 'Religious Wars' is as close to a perfect, dare I say it, 'pop' single as you're going to get in the punk world."

Richard Newson (AKA Winston Smith – Sounds writer): "Their songs seem to exist out of time, somehow always relevant. And they've stuck to their guns – there's this stubborn defiance in the face of fashion, and their glorious, unaffected honesty. All this helps explain why they've lasted so long."

Mel Bell (A-Heads): "All their songs are catchy, for a start. They are so energetic too, such good musicians. Every gig I've ever seen them do was brilliant – and still is. I will never tire of seeing Subhumans; even when they have an 'off night', they're still really good."

Stu Pid (Police Bastard/Sensa Yuma/Contempt): "They're one of my favourite bands in the world, but a band is only as good as the people in it... and the Subhumans are the real deal."

Chris Boarts Larson (Slug & Lettuce fanzine): "They're real people, doing a thing they love. The songs are catchy yet diverse, thoughtful and thought-provoking. They have something to say that is universal and relatable, and just as poignant today as in 1985…"